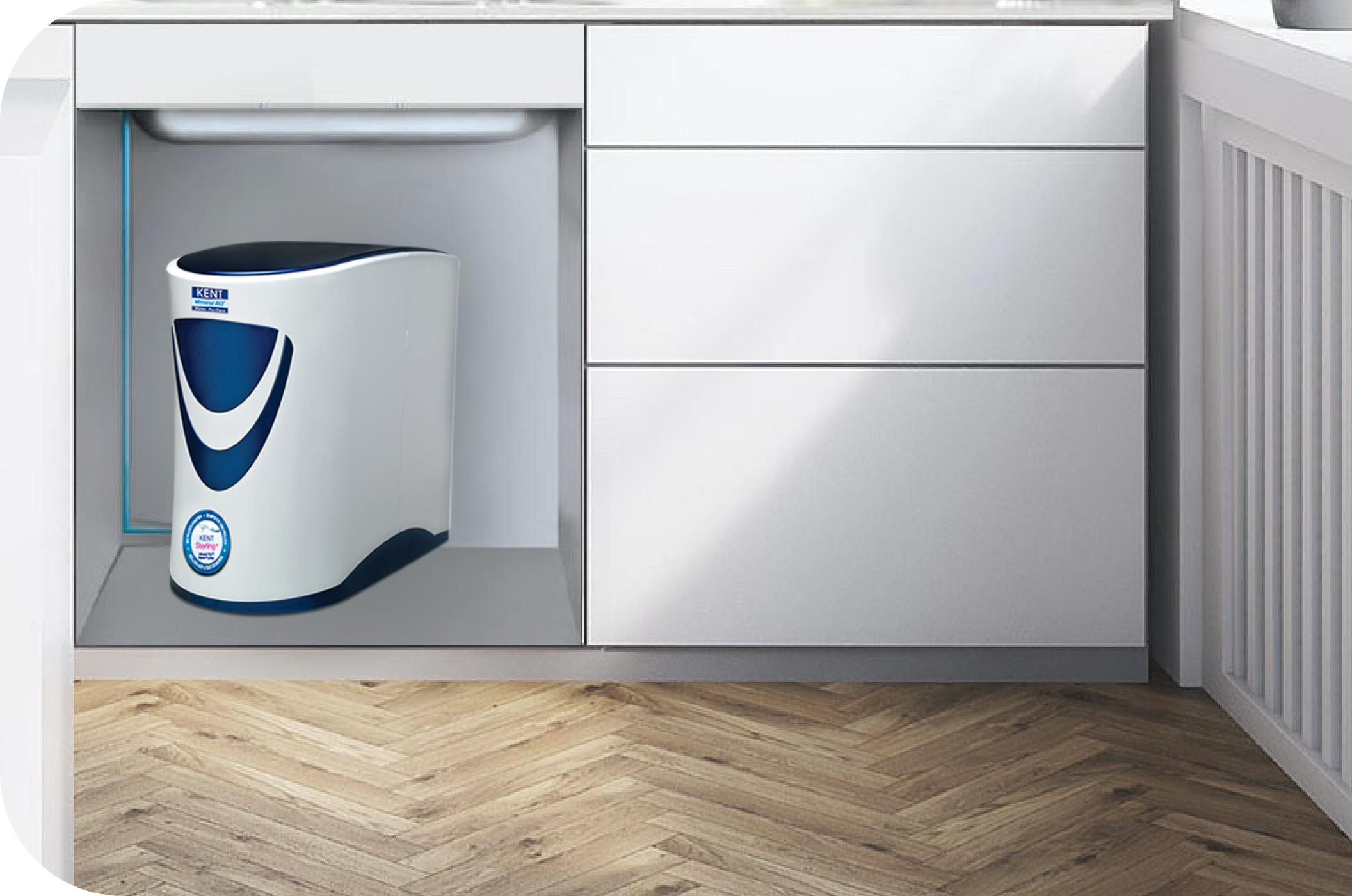 KENT Sterling DF New
Presenting KENT Sterling DF New- an innovative addition in the Elite Water Purifier Series. It is an advance water purifier that uses multiple purification processes of RO+UF+TDS Control to purify water by removing bacteria, viruses, chemicals, and dissolved impurities. It is made up of ABS food-grade plastic that ensures a corrosion-free life span. Also, its slim and compact design ensures easy attachment with water coolers, making it the most sought-after water purifier by commercial entities. This purifier can purify water from all sources and is best suited for commercial establishments like offices, restaurants, and factories.
Features
Makes water pure & keeps your family healthy
Makes Water 100% Pure
Elite Plus New removes bacteria, viruses, chemicals, and even dissolved impurities such as arsenic, rust, pesticides, and fluorides from water and makes it 100% pure and healthy.
Multiple Purification Process
The multiple purification process of RO+UV+UF+TDS Control makes water suitable for drinking, thus taking total care of your health being.
Retains Essential Minerals
It comes with an inbuilt TDS control valve that allows adjusting the desired TDS level of the purified water. This way, it allows you to retain essential natural minerals in purified water.
High Purification Capacity
This purifier uses two RO membranes and a high-pressure pump for purification that facilitates a flow rate of up to 50L/hr.
Optional Hydrostatic Storage Tank
An additional storage tank of 7L capacity can be attached to KENT Elite+ New. It ensures a steady supply of purified water even in the absence of electricity or running tap water.
CE Certified
"CE" is the abbreviation of French phrase "Conformité Européene" which literally means "European Conformity". CE Marking ensures that the products comply with the essential requirements of the relevant European health, safety, and environmental standards.
Most Trusted & Awarded
KENT enjoys the trust of more than 50 Lakh satisfied consumers across India. KENT's awards-studded growth is a shining testimony to its phenomenal reach and acceptance by global audience. KENT has received many national & international prestigious awards & recognitions.
Specifications
A

pplications

Suitable for Purification of Brackish/Tap Water/Municipal Corporation Water

Purification Production Rate

80 L/hr.*

Body Material

ABS Food Grade Plastic

Mounting

Under the Counter

Dimensions(mm)

445 (L) x 245 (W) x 420 (H)

Input Power Supply

Single Phase 100-250 V AC, 50-60 Hz

Storage Capacity

12 L

Total Power Consumption

60 W